Everybody wants to be happy
It seems that is the true quest of every human being on earth. Sometimes success is defined in terms of happiness. The American Declaration of Independence even states that happiness is man's inalienable right.
But why is it so important to be 'happy'?
Well, first of all, it goes without saying that life is already complicated enough without the added burden of moodiness and sadness. Also, it is scientifically proven that elation triggers hormones that are essential when it comes down to proper metabolic function and well-being. Also, when someone is happy their positive side is brought to the fore and problems become easier to solve.
On the other hand issues such as poverty, oppression and stress do exist. There are still many places where abuse is a commonplace occurrence and where people still die victims of hunger and violence. Are we advocating we just close our eyes to these and pretend they do not exist? Certainly not. On the other hand, dwelling on problems and becoming depressed by them has never helped anyone.
The American Psychological Association states that teenagers as young as fourteen begin experiencing depression at least once a year until they are thirty. Human beings have a tendency towards negativity because often negative events and feelings carry more weight than contentedness and joy. As a result, a lot of us experience sadness that continues to influence us long after the triggering episode has gone. This, in turn, increases our risk of developing illnesses such as chronic heart failure, cerebrovascular accidents, apnea, and migraine.
So perhaps we can all agree that it would be better to be happy than not. But then, a question springs to mind:
What does it mean to be happy?
Happiness is sometimes defined as a state of mental well-being characterised by positive emotions which can vary between contentment and joy. Another way to understand happiness is in terms of a way of life, rather than an emotion. It is hard to pin the concept down because happiness means different things to different people. Sometimes we are happy because we are confronted with unexpected positive events. Other times we are happy because we feel accepted and loved by others.
Some psychologists have attempted to explain happiness: Seligman, for example, though humans are most happy when they experience Pleasure (such as good food, warm baths etc) , Engagement (also called 'flow' which is feeling absorbed in an enjoyable yet challenging activity) Relationships, Meaning ( a sense of belonging to or a quest for something bigger than themselves) and Accomplishments (having realised tangible goals)
Maslow, the founder of humanistic psychology, understood happiness in terms of a hierarchy of needs shaped in the form of a pyramid.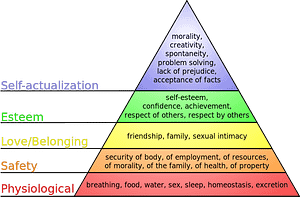 At the bottom of the pyramid, we have our basic needs that must be fulfilled at all costs. When we fulfill them we attain a basic level of happiness.
After that we ascend to 'higher' needs and a higher, more fulfilling sense of happiness is found. We proceed this way until we reach the last level where 'peak experiences' of profound love and understanding are felt.
When we reach the self-actualisation level we feel more whole, more alive, self-sufficient and yet part of the bigger world around us. This is the highest state of 'happiness' that we can experience.
Can we be happy all the time?
According to this model, we can't be happy all of the time and we shouldn't expect to be. Happiness depends on needs being fulfilled, therefore until they are fulfilled we can expect unhappiness. Surely, this model is useful to understand ourselves better and to aspire to have our needs met at different levels as we proceed in life.
However, there is something to be said about how a positive attitude of mind can help us fulfill our needs quicker because if we feel good about where we're at in the present, we cope more effectively with the circumstances we find ourselves in while aspiring to better them.
If we see happiness as an attitude of mind we might find that our needs get fulfilled quicker and that we can feel reasonably happy despite all the negativity that surrounds us and despite not having attained just yet the highest levels of self-actualisation.
How do we foster a happy attitude?
A good attitude is half talent half habit. Like some people are born with a talent for music so some people struggle with it. However, anyone can become a reasonably good musician if they put enough effort and practice into it. In the same way, a good attitude is the product of a positive habitual way of thinking, which might be partly inherited from good parents and partly learned and acquired.
So if your parents were negative and you were brought up, like most of us, in a society that thrives on fostering insecurity for economic reasons there is still hope for you. Luckily for all of us, our mind is extremely pliable and versatile and can learn new habits throughout our lives. It is never too late to change unless of course, you tell yourself it is.
I have found that the first step towards change is gratitude. We could spend all of our time focusing on what is missing but if we do that we will only attract more of the same. This is not because of magic. It simply is a psychological reality: whatever we tell ourselves we create in our minds. And whatever we think produces an effect in feelings and actions. These, in turn, are reflected back to us by others and create more of the same. The tricky thing is to think about what we want, not about what we don't want, because our 'irrational' mind does not understand negatives. To illustrate: if I said to you "don't think of pink elephants!" what are you thinking about?
When we focus on what we have and not on what we don't have and we are grateful for it (we feel positive about it) we are more likely to attract more of it. This is because not only we subtly inform our subconscious of what we want more of, but also we project a positive attitude to others and the world is more likely to respond positively to people who are positive rather than to people who complain. This doesn't mean that we should just accept our lot and be content with it. But if we accept where we are, trying to see the opportunity rather than the flaw, we are more likely to have the energy to progress beyond it.
Therapy, Coaching or Self Help?
So what if you want to get some support to learn how to change the way you think so your mind can be your best friend rather than your worst enemy?
The first step towards wholeness is the hardest and if you have read this far you are already well on the way to overcoming the tallest hurdle in your way. At the end of the day, the best help we can get is the one we give to ourselves. Even when we ask others to help us, we need to want to help ourselves first.
So with this attitude in mind, taking responsibility for our own well-being, we can read a whole array of books on the subject but If this proves not to be enough or we want some extra support we have a few options.
Holistic hypnotherapy, combined with NLP and Coaching could be the way for you to go. Or you could go on a self-development course or a self-hypnosis class. Alternatively, you may want to find a humanist psychotherapist or perhaps a CBT counselor. Or perhaps you could combine these to suit your needs. What is important is to listen to yourself, and to go with what feels right.
So begin your journey now by expressing gratitude to yourself for being the sort of person to even read this article! Give yourself a pat on the shoulders: well done for caring enough about yourself to be interested in self-development! You are already close to finding your way to live a happier more fulfilling life!
More on this: The Key to Happiness by Dr. Brené Brown -
Brene is a researcher professor at the University of Houston, Graduate College of Social Work, where she has spent the past ten years studying a concept that she calls Wholeheartedness, posing the questions: How do we engage in our lives from a place of authenticity and worthiness? How do we cultivate the courage, compassion, and connection that we need to embrace our imperfections and to recognize that we are enough — that we are worthy of love, belonging and joy? Brené is the author of I Thought It Was Just Me (but it isn't): Telling the Truth About Perfectionism, Inadequacy, and Power (2007) and the forthcoming books, The Gifts of Imperfection (2010) and Wholehearted: Spiritual Adventures in Falling Apart, Growing Up, and Finding Joy ( 2011).
Check out this video: Believe that you are worthy of love and connection